Inspired by the Season, Winter wedding…….
On our photo shoot held with Jess Soper earlier this year we were all about trying to capture the season, why?   Because we try to use, as best we can, flowers of the moment.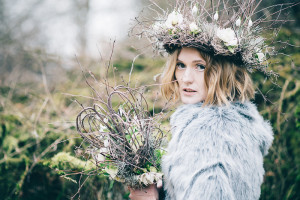 Flowers and natural materials are truly governed by the seasons if you are wanting to use British blooms.
Inspired by the bleak grey skies of February, the barren landscape, the stark trees and only the first few emerging Snowdrops of the year we started foraging for twigs, and hunting the garden for any Snowdrops and graceful white Hellebores that we could find.
Keeping to the season and using the things on hand at the time allows you to become more creative, it opens your way of thinking.  Taking inspiration from those things around you that might seem irrelavant to the conventional wedding day can set you over and above the rest, embrace everything that is out there and make your day your own.
Our ideas culminated into a Narnia-esque feel, even Jess mentioned how much she could imagine a Winter wedding theme of everyone dressed as a Narnia character, sipping Champagne around a roaring log fire.
With the cold setting in, all we could really think of come the end of the day was sitting round a log fire ourselves and we have to take our hats off to our model Ella who endured 4 degrees all afternoon in definitely not the warmest of attire!!!
Styling and Flowers; The Country Garden Flower Company
Photography; Jess Soper Photography
Hair; Chloe Nicoles Freelance Hair Dressing
Make up; Millie Johns
Model; Ella Martin