If you have ever been tempted to start flower growing and have been too scared to take the plunge, don't be.  Whether it be as a business or simply just growing a few flowers for your own needs, in a patch of your garden,  all of us have the capability to do so.  You may not be a professional grower, your background may be in something completely alien to the world of flower growing but if it is something you feel passionate about then jump in to this crazy world.
We have managed to do it and have created a business that now supports us, it hasn't been easy don't get us wrong.  There have been lots of pitfalls and steep learning curves and unless your one of the lucky ones don't ever expect to be a millionaire!  Riches in this job come in different forms.  From being immersed in the natural beauty that surrounds you everyday, even in the depths of winter when little is growing, to the smiles on customers faces when they pick up a bunch of flowers from you or a Bride's joy when they receive their wedding bouquet.  These are the riches that keep you nourished.  They are the things that drive you to keep planning, planting and creating from the produce you toil hard over.
We always have a lot of people comment to us how much they would "love to do what we do" but please don't be fooled, this job is hard graft.  Don't be expecting to be wafting round the cutting garden in a Cath Kidston apron from dawn 'til dusk, with your flower trug and snips in hand.  We think many who say the aforementioned, have a misguided vision of how our life may seem.
Be prepared to get down and dirty!  Shoveling copius amounts of manure and mulch for hours on end, weeding, clearing beds and digging – be prepared to put your back out on a fairly regular basis, and have hands stained with in ground dirt, this is not a job for the glamorous.  Then there is the battling of the elements – from working out in the rain to making sure everything is either anchored down or supported against prevailing winds and in the summer season the relentless watering, to quench the plants after the intense heat of the day.  Be prepared to have to do these tasks all over again just because of these elements, they're going nowhere, you just have to try to keep one step ahead of them all the time.  At moments this job can be disheartening, when you just think you have 'cracked it' something else will come along to test you.  The biggest test we have are Pheasants.  Sometimes in our walled garden it's like trying to grow flowers in a Chicken run holding a thousand ravenous hens.  Our plot is on a beautiful country estate that holds a traditional shoot and rears several thousand Pheasants to release in the Autumn.  From late September to early Spring these birds are literally like marauding locusts, attacking everything green, even digging/pecking established plants and their roots completely from the ground.  I will leave it there (I could swear a lot about these birds) but over the years we have lost a lot but have now hopefully worked out the varieties that are most resistant!!
The good parts of this job, thankfully, always outweigh the bad and once the flowers start in earnest there is no place you would rather be.
This year through our blog we thought we'd let you in on a little bit about how we operate here at HQ and provide you with some hopefully informative blog posts on our growing with some  features of where our flowers end up in-between.
Everybody always thinks all of our flowers are produced at the cutting garden for the entirety of their life, and we have access to vast professional growing areas.  In truth all of our seedlings are started off in our small wooden 8ft x8ft greenhouse, that we built from scratch, at home.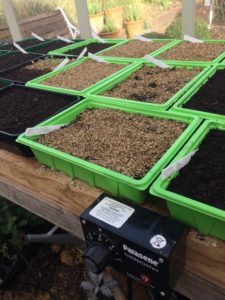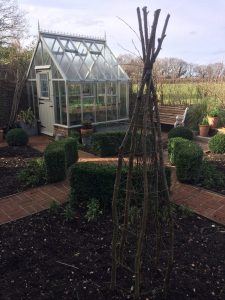 Our cut flower garden, although beautiful, has no other services but water.  With this the case and our need for warmth in the early part of the year we converted our home greenhouse (with electric laid on) into our Spring season propagation unit.  Everything that is now established and is grown annually in our two acre plot has started life in this little space.  This goes to show you how incredibly productive a small area can be.  We sow intensively into small, half size, seed trays with  250-500 seeds per tray depending on type and transfer the seeded trays on to heated benches in the greenhouse.  Yes, the seedlings can come up like cress!  As soon as they're up we have to work quickly, pricking out into plug trays, so the seedlings don't stretch.  We then grow them on in the cooler polytunnel down at the plot.  Our propagation times are programmed so we start off with the hardier varieties and move on to the more tender types as the weather warms.  This little greenhouse produces around 30,000 plants a year, most of them over the Spring season, it's intensive and it works for us but we really wanted to illustrate to you that you can develop anything, from near nothing, if your passion is strong enough!