Blossoms and branches………
April and May are the most dramatic two months of the year, the transformations we see are astounding, you can more or less see the changes by the minute.
Each night when we arrive home from work, just a quick glance around the garden will show us that.  The flower buds are beginning to form on the early summer perennials, the early Spring ones are now fading and the bounty of late Spring is now upon us.  Branches of pink blossom are now abundant among the trees, the Tulips are replacing the Narcissus and the Bluebells are beginning to bloom.  The Nightingale has arrived and is singing relentlessly, the Swallows have arrived and Cuckoo is beginning to call, all the signs that the beautiful English Summer is just around the corner.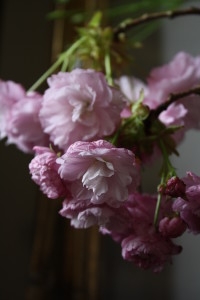 It always seems such a rush at this time of year everything is in a hurry to have it's showtime, some so fast you blink and miss them.  It is time now to take a moment gather that snapshot in time, as for week by week it alters, and the beauty that is around us will be lost for another year unless we do something to appreciate it more.  The combinations of flowers that can be cut and enjoyed indoors at this time of year is nearly overwhelming. Our minds buzz with how many of them we can achieve but at this time of year it is definitely about the trees, they are fleeting and their blossoms so varied in their forms, the Cherry with all its exuberance, the Maple and Viburnum with their dainty floret clusters down to the Willow and Birch trees and their catkins.
Use them simply, cut a few stems and place them without fuss into a vessel, combine with a few other blooms of the season and enjoy….